SAT & ACT Test Prep in Kutztown, PA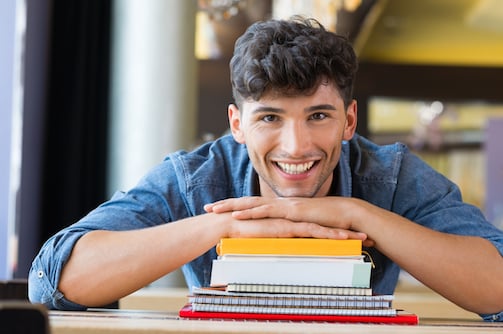 Many students living in Kutztown, PA, including high performing students, have a strong antipathy towards the SAT and ACT. This disdain for these college entrance exams can place students of all academic levels at a severe disadvantage because many colleges require applicants to earn high scores before offering them a coveted spot at a university.
There's no way around it: students from Kutztown, Fleetwood, Brandywine Heights, Schuylkill Valley, Oley Valley, Boyertown, and other nearby schools need the necessary scores to impress admission officers and make their academic aspirations a reality. Partnering with PREPARE puts students one step closer to completing their goals.
"From the PSAT to the SAT I felt much more prepared and less stressed. The class helped me specifically with the methods for critical reading because I went in with strategies to get those sections done faster." ~Emily Paskewicz, Saucon Valley HS (Penn St.)
Amplifying SAT & ACT Skills For Students in Kutztown, PA
Helping your student navigate the college admissions process isn't always an easy feat. The accompanying stress can overwhelm students and even impede their success. As the leading SAT and ACT test prep in the Lehigh Valley area, PREPARE can help simplify the daunting process through our high-intensity group SAT and ACT classes.
Every student has the potential for unlimited success. But some need extra attention to help unlock this success. At PREPARE, our SAT and ACT group classes are designed to amplify a student's toolbox of skills, which will allow them to earn supercharged scores that will help them stand out among other college applicants.
PREPARE Transforms Students Into Lifelong Learners
All too often, larger test prep companies fail to adjust their curricula to meet the individual needs of each student. You won't find a one-size-fits-all approach at PREPARE. Whether students need help studying for the SAT or ACT, PREPARE is ready to help! For years, PREPARE has inspired students from Fleetwood, Brandywine Heights, Schuylkill Valley, Oley Valley, Boyertown, and other nearby high schools to boost their ACT and SAT scores to secure college acceptance. PREPARE leverages your student's strengths and passions until they transform into competent test-takers and better learners.
College admission continues to become more competitive, and students have one chance to make a great, lasting first impression. Let your students stand out with help from PREPARE's comprehensive ACT and SAT test prep.  Call (610) 730-4876 to learn how you can lead your student to scholastic success today!
PREPARE SAT & ACT Course Classroom Sites
Muhlenberg College
2400 W Chew St
Allentown, PA 18104
(click map for directions)