All About Prepare Test Prep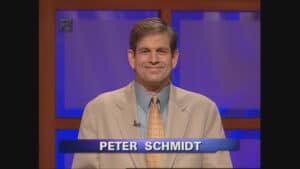 Peter Schmidt on Jeopardy!
I finished with $21,201… but that was only good for second place. So I only got to keep $2,000. Too bad 🙁
I, Peter Schmidt, run PREPARE Test Prep and teach most of the SAT & ACT prep classes myself. I am a graduate of Saucon Valley High School, Columbia University (BA, English), Yale University (MM, Music) and the University of Houston, (MFA, Drama).
After performing professionally in my younger days, I began coaching SAT prep in 1999 at a private company in California. I found the combination of my education and theatrical experience to be an effective formula for keeping students interested and motivated.
In the summer of 2004, I returned to Allentown to start my own test prep business. Since then, I have helped thousands of high school students improve their SAT and ACT scores.
My family
I have two children, Alex (21, a senior at Penn State) and Nathaniel (14, a freshman at Moravian Academy), and have been married for twenty-five years to the lovely, intelligent, fairly tolerant Jody Griffith, PhD and author of "Victorian Structures: Architecture, Society, and Narrative," published by SUNY Press. If she can stand living with three loud-mouthed guys, I'd like to be married to her for another twenty-five years.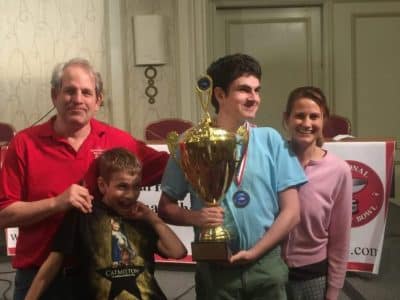 Playwriting
I am a playwright. My teacher, Edward Albee, produced my first play, "Charon Unframed," in his Houston workshop. My musical satire, (a collaboration with the late, great Jeff Weiss) "The Teddy Bear Awards, or Better Than Broadway," was produced by the Allentown Public Theatre in 2012. My play, "Sheep May Safely Graze, a chemo cabaret," premiered on YouTube in May of 2021.
Performing
I have performed professionally in musicals, plays, and operas all over the United States. While I am semi-retired now, I still perform on occasion. In the summer of 2018, I played JB Biggley opposite Frankie Grande, in "How to Succeed in Business Without Really Trying." Here we are backstage: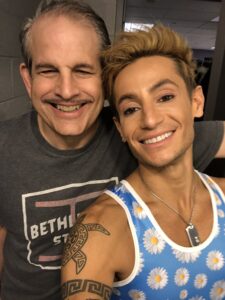 And, yes, I did get to meet Ariana Grande.
Academic Competition
Lastly, I'm a trivia/academic competition nut. Aside from appearing on Jeopardy! in 2002, I coached the 2015 and 2018 Pennsylvania squads at the National All-Star Academic Tournament. I also coached Lehigh Valley Academy to 12th place at the High School National Championship Tournament, the Small School championship at the National History Bowl, and the Pennsylvania Academic Competition championship.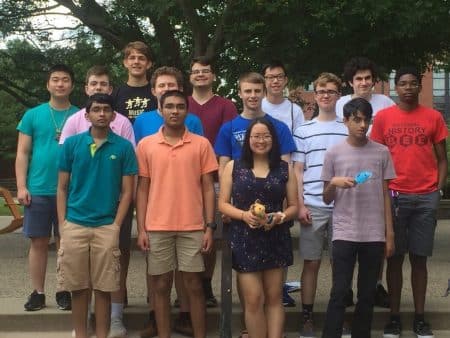 This is our 2018 Pennsylvania All-Star Academic Team. Wonderful, brilliant kids.
PREPARE SAT & ACT Course Classroom Sites
Muhlenberg College
2400 W Chew St
Allentown, PA 18104
Gwynedd Mercy University 
1325 Sumneytown Pike
Gwynedd Valley, PA 19437
Moravian Academy
4313 Green Pond Rd
Bethlehem, PA 18020
West Chester University 
700 South High Street
West Chester, PA 19383
(click map for directions)
We provide unmatched test prep services for students living in Allentown, Bethlehem, Easton, Whitehall, Phillipsburg, Nazareth, Kutztown, Lansdale, Doylestown, North Penn and nearby areas. As of 2022, PREPARE is also providing intensive, week-long online test prep for students from all across the country.