In-person ACT SAT PSAT and AP Test Prep in Bethlehem, PA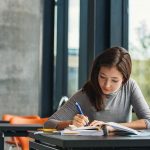 PREPARE runs in-person SAT ACT PSAT prep classes in Bethlehem. AP test prep and college essay workshops will be offered this spring. Mask and vaccine mandates have now been lifted. For more information, please go to: For more information, please got to: https://prepareforthesat.com/act-sat-prep-courses-schedules/
PREPARE, with classes at Moravian Academy and Muhlenberg College, is the leading source for ACT SAT PSAT and AP test prep in the Lehigh Valley. College admission officers are being flooded by a rising applicant pool, resulting in record-low acceptance rates. Now more than ever, it's imperative that your student achieve top ACT & SAT scores to catch the  attention of admission officers. PREPARE has the tools and resources to help Liberty, Freedom and Saucon Valley students gain admittance to their first-choice university.
"Through Prepare, I was able to learn effective strategies for every section on the SAT and gain confidence with frequent practice tests in realistic testing conditions. After my Prepare course, my junior SAT and PSAT scores increased by the equivalent of 500 points on the SAT compared to my sophomore scores. Using Prepare's strategies, I was designated as a National Merit Semifinalist (top 1% nationally) through my junior PSAT score. Many of my friends took courses with Kaplan and Princeton Review for hundreds of more dollars and found themselves with little to no improvement. You've definitely made a difference in my life through your teaching. I wish you success in your work and I'™ll try my best to spread the word about Prepare."
~Stephen Yoon, Freedom HS (Cornell)
Top-Notch ACT SAT PSAT and AP Test Prep in Bethlehem, PA
The ACT & SAT can kick a Bethlehem student's stress levels into overdrive. Having helped over 6,000 students, PREPARE has a refined methodology to guide students through the ACT & SAT. Bethlehem students will perform their best on test day and achieve success.
PREPARE's students understand how to reach the apex of scholastic success. Master teacher Peter Schmidt will pinpoint and chart your student's progress in a warm and inviting classroom setting.
Prepare to Experience the Premier ACT SAT PSAT and AP Test Prep in Bethlehem, PA
When Liberty, Freedom, and Saucon Valley students come together in a classroom, they form a learning community. One student builds off another; weaknesses become new strengths. This collaborative approach will help your student master strategies for tackling every type of exam question while preparing them for real-life test conditions. Moreover, PREPARE inspires students to reach their full potential through test strategies, time management skills, and advanced study materials.
Whether students need help studying for the SAT, ACT, PSAT, or AP tests, PREPARE is ready to help! We'™ve helped students from Liberty, Freedom, Bethlehem Catholic, Saucon Valley, and other nearby schools achieve their dreams. We can help make your student's dreams a reality, too! Your student is only one call away from reaching his or her target ACT SAT PSAT or AP score. Call 610-730-4876 to join the ranks of other satisfied, college-bound students.
PREPARE SAT & ACT Course Classroom Sites
Muhlenberg College
2400 W Chew St
Allentown, PA 18104
Moravian Academy
4313 Green Pond Rd,
Bethlehem, PA 18020
(click map for directions)