In-person and online ACT & SAT Test Prep in Easton, PA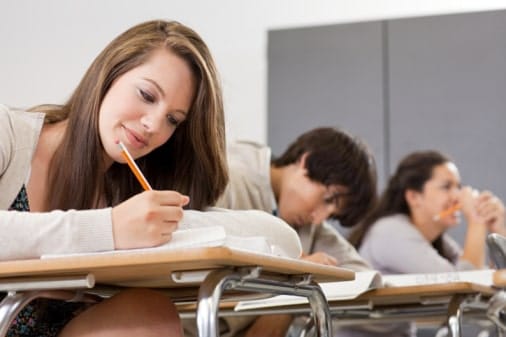 Fall class update: Our Fall I session, prepping for the October 2 SAT, begins on Saturday August 28. Prepare will be running in-person classes at Moravian Academy, as well as a compete online course at a reduced cost. For more information, please got to: https://prepareforthesat.com/act-sat-prep-courses-schedules/
Every year, thousands of high school students register to take the ACT and SAT college entrance examination. For many Easton Area and Wilson Area High School students, this is the most important exam they will encounter. The mere thought of the ACT or SAT is enough to send student anxiety levels soaring because their score may mean the difference between receiving an acceptance or rejection letter from their first-choice college. Driven by the desire to achieve a top score, students living in Easton, PA need a reliable ACT and SAT test prep that produces measurable results.
With a convenient location in Allentown, PA, PREPARE, the premier test prep program in the Lehigh Valley, inspires students to maximize their performance on the ACT and SAT.
Prepare truly was a great experience and helped me attain my goal of getting into Penn State University, main campus! I do not think I would have ever scored as well on my SAT if it had not been for your class." ~Alex Pruszynski, Notre Dame HS (Penn St)
Top-of-the-line ACT & SAT Test Prep Made Easy in Easton, PA
It's no wonder why Easton students turn to PREPARE for all of their SAT needs. PREPARE offers incredible value with superior methodology and more instructional hours at a far lower cost per hour than any one else. Enrolling with PREPARE is the best investment you can make for your high school student because higher scores translate into more merit-based aid from your student'™s college choice. Our classroom-style ACT and SAT test prep program will help your student regardless of their current test prep skill. PREPARE's innovative learning model help students from Easton, PA maximize ACT and SAT scores through a personal learning environment.
Class is in session! Unlike other test prep centers that offer online sessions, PREPARE believes that students thrive in the classroom setting. When students come together in a classroom, they form a learning community that builds off one another, helping other students transform weaknesses into a new test prep strengths.
Achieving top scores is now a reality with help from PREPARE. The key to earning a high SAT score lies in becoming comfortable with the test. Students score higher when they know they'™re in control of their test. This means understanding the SAT'™s format, recognizing question types, and knowing when to skip difficult questions rather than wasting precious time trying to solve them. Through the combination of hard work and careful planning, you can expect your student to supercharge their SAT scores come test day.
Prepare For Better ACT & SAT Test Prep. Better Instructors. Better Scores
PREPARE is dedicated to delivering the ACT and SAT scores that Easton-based parents and students crave. Since 2004, PREPARE has helped over 6,000 students from over 600 schools such as Easton Area High School and Wilson Area High School substantially improve their SAT scores. Join the ranks of other satisfied students by enrolling in our SAT test prep program. Call 610-730-4876 to learn how your child can achieve higher scores today!
PREPARE SAT & ACT Course Classroom Sites
Muhlenberg College
2400 W Chew St
Allentown, PA 18104
Moravian Academy
4313 Green Pond Rd
Bethlehem, PA 18020
(click map for directions)